Create Your Own Event
HOST YOUR OWN EVENT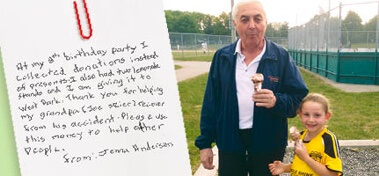 Remember the excitement of counting the proceeds from your first charity lemonade stand?
Eight-year-old Jenna Anderson did just that. In appreciation for the care her grandfather received at West Park, Jenna held two lemonade stands and donated the proceeds to the hospital.
She even took it up a notch when she collected donations for West Park instead of presents for her birthday.
Kudos to Jenna!
NO EVENT IS TOO SMALL – OR TOO BIG.
Our supporters have organized community dances, held gold sales, run bake sales, and shared their talents for art, music, and fitness as a means to raise funds for West Park. You can bask in the glow again by naming West Park as the benefactor of your favourite event.
Not only do the events support the hospital financially, but they also help showcase the exemplary care and dedicated staff at West Park. It is all incredibly appreciated.
NEXT STEPS
To set up your Community Event, download a copy of our Community Events Package here for everything you need to know!
Our easy-to-follow PDF will guide you through the simple process of setting up and submitting your event application, as well as give you some tips and tricks.
Once we receive your completed application form, a West Park Foundation representative will contact you within 7-10 business days to discuss your event plans and answer any questions you may have.
CONTACT US
To register your event, or for more information, please contact:
Haley Thompson
Signature and Special Events Office
416-243-3600 ext. 4226
haley.thompson@westpark.org