West Park In Motion
Unfortunately due to COVID-19, the Achilles St. Patrick's Day Races have been cancelled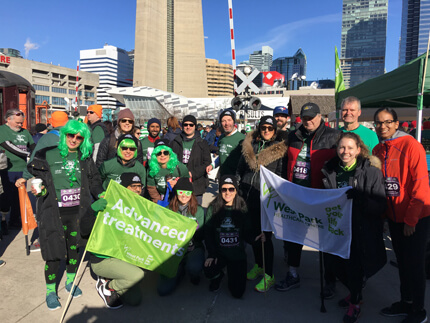 Please visit the Achilles site for more information.
Celebrate St. Patty's Day with West Park!
Sunday, March 15 | 10:15 A.M. | Steam Whistle Brewery
For the fifth year in a row, our team is thrilled to be participating in the Annual Achilles St. Patrick's Day Races. Join West Park Healthcare Centre staff, patients and other members of the West Park in Motion team for a festive fun-filled morning and experience the excitement of running, walking or wheeling through the heart of downtown Toronto while raising money for a great cause – West Park!
Again for 2020, Achilles Canada has added 1K Kids Run and a 10K Run to go along with the traditional 5K Run.
The West Park in Motion Team is offering a $20 registration Fee for the first 30 people to sign up (discounted from Achilles individual registration fee of $45). Fee includes race registration, race kit and a bonus West Park toque! Plus all race participants enjoy a post-race pint of Steam Whistle and a hot bowl of chilli.
The race is open to anyone to join, whether running, walking or wheeling!
West Park patients, please register with Sheila Thomson at sheila.thomson@westpark.org. Anyone else who is interested in registering can contact Jay Scull at jay.scull@westpark.org.
Once you register, the next step is fundraising! Ask your family, friends and colleagues to sponsor your efforts in support of West Park. Contact Jay Scull to learn more.
All proceeds will support Rehabilitation Services through Rehab Plus, and other top priorities for enhanced patient care at West Park.
Visit westparkinmotion.ca to donate today.