Donor Spotlight: David Weishuhn
THE GIFT OF GRATITUDE
West Park helped David Weishuhn get his life back. Now he's helping build the new hospital.
In 2006 he developed Guillain-Barré Syndrome, a rare disorder in which the body's immune system attacks the myelin cover of the nerves, causing weakness and potentially paralysis. Weishuhn says he was lucky that he was diagnosed and got into treatment quickly. He's also lucky, he believes, that he was able to rehabilitate at West Park, close to his home and business. "It's a very caring environment," he says. "If you're willing to do the work, the staff will do whatever they can to get you to the best possible condition." And he is fortunate enough to have made a full recovery.
To express his appreciation to the staff who cared for him, Weishuhn made a parting gift of a high-end coffee machine. He jokes that, "West Park saw that as evidence that I was willing to give!" When he was back at work, he was approached by the Foundation to help with the creation of a gateway sign on Eglinton Avenue. Recognizing that West Park was "a hidden jewel," he and a colleague sponsored the sign, one of the first tangible steps toward the new hospital.
In 2013, he joined the Foundation Board, serving for six years. During this time, he was a generous sponsor, through his family's business, Blue Flame Heating & Air Conditioning, of the Foundation's signature fundraising events. The company, now led by Weishuhn, was founded by his father in 1957.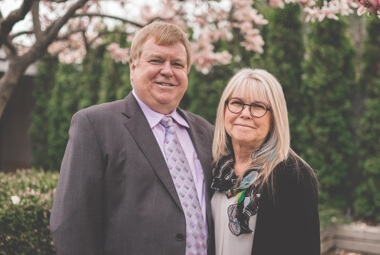 David Weishuhn considers himself "a very lucky person."
As his Board term comes to an end, Weishuhn and his family have made a leadership gift to West Park, to name the Weishuhn Auditorium. In addition to his own experience as a patient, his father spent his final days at the hospital, and his mother-in-law underwent rehabilitation there following two hip fractures.
The auditorium is often described as the hospital's family room. It is a meeting place where staff, patients, families and others share information and enjoy special events and presentations. The auditorium will be a feature element in the new hospital, an interesting organic shape with light-reflecting cladding, reached by an elegant staircase from the main entrance. The complex will also include conference rooms, seating areas, and a servery.
"There aren't many meeting places at West Park today," says Weishuhn. "We're hoping the auditorium will be a central focus for the community. It's an honor to have my family's name associated with it."