Donor Spotlight: Gordon Wilson
A TRAIL OF NEVER-ENDING LOVE
The first time he saw his future wife was across a badminton court. "She was beautiful, everything I had ever imagined in a woman," says Gordon Wilson. For more than 60 years of marriage, his feelings never changed. Throughout their life together, he showered her with gifts, small pleasures, respect, care and love. Now he is honouring her memory with a special gift.
Gordon loves telling stories about his life with Audrey. On their first date, Valentine's Day, he brought her a wrist corsage with a yellow orchid. They bought their first Toronto home for the princely sum of $12,000 and together they raised five children. Audrey's charm and poise helped further Gordon's career with Eastman Kodak. "When I first got married, my friends called me the luckiest man alive! I'm 94 now, and I'd match up my life to anyone—it's been pretty great," says Gordon.
Gordon was a member of the Board of Directors at West Park from 1989 to 1994 as a representative of Kodak. Later in life, both he and Audrey learned first-hand how West Park helps people facing serious illness. Audrey received respite care at West Park, and spent her last two years at the Long-term Care Centre, while Gordon has pulmonary fibrosis and is receiving care at West Park's renowned pulmonary rehabilitation clinic. Recently, he made a $250,000 donation to West Park, which will be recognized through the naming of the Audrey Wilson Therapy Trail.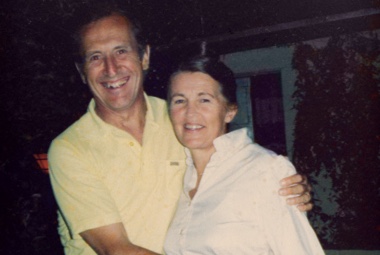 "This generous gift will benefit future patients and their families."
It's an appropriate choice: Gordon and Audrey enjoyed hiking together with a group of fellow enthusiasts. Gordon says Audrey preferred "comfortable hiking," in Italy, Germany, Switzerland and on the Bruce Trail. He went on to tackle tougher terrain, hiking Kilimanjaro, Everest, Machu Picchu and in the Antarctic.
The Audrey Wilson Therapy Trail at the new hospital will be part of the massive West Lawn, a calm, park-like setting facing the Humber Valley, offering a range of physical challenges for informal and formal therapy. Outdoor fitness equipment, shady benches, art installations, and landscape features will create interest. This generous gift will benefit future patients and their families by connecting them with the healing and life-giving benefits of nature.
"We're honoring a woman who would probably say, 'what's all the fuss about?'" says Gordon with a smile. "But she was the greatest thing in the world to me."