Donor Spotlight: Kathleen Wilkinson
A LIFE OF SERVICE
At 13, Kathleen (Kay) Wilkinson contracted polio. Polio is almost eradicated today due to a vaccine, but it was once a common and much feared childhood disease. Kay recovered from the disease and got her strength back by swimming.
When she finished high school, she worked for an accounting firm for five years to save enough money for university. She attended the University of Toronto on scholarship and then worked as a social worker in Toronto's poorest neighbourhoods for 12 years. The remainder of her career was spent teaching special needs children.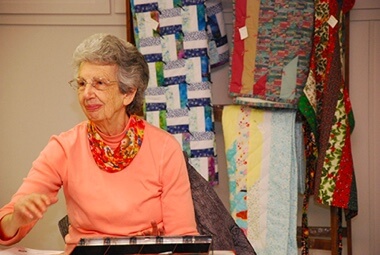 Although she now uses a wheelchair some of the time, Wilkinson continues to live independently and put her talents and knowledge to work helping others. "I can still do a lot!"
It was during that time she began to experience symptoms of post-polio syndrome, which caused her to lose mobility and have difficulty breathing. She was referred to the post-polio clinic at West Park, which has since closed. "It changed my life," she says. "The doctors and therapists helped me get back what function I could, and taught me how to cope at home and be independent."
She married when she was in her 50s and spent 12 happy years with her husband Maurice, a retired Anglican minister. When he suffered a stroke, he too was referred to West Park for rehabilitation. Widowed for 10 years, Kay now lives in Parry Sound and continues her lifelong habit of service by volunteering at the long-term care home next door.
The Wilkinsons supported West Park for many years, and Kay has chosen to make a bequest in her will to the hospital. "Rehabilitation is a gift," she says. "West Park enables people to be as independent as possible and teaches them to be their own advocates."
Although she now uses a wheelchair some of the time, Wilkinson continues to live independently and put her talents and knowledge to work helping others. "I can still do a lot!"