2019: Building Momentum and a New World-Class Hospital
2019: Building Momentum and a New World-Class Hospital
Fundraisers, construction discoveries and a brand new Lottery: thank you to our supporters for another great year!
On March 17, a team of more than 20 West Park patients and staff celebrated St. Patrick's Day by participating in the annual Achilles races. The West Park in Motion team raised more than $4000 in support of West Park.
The first major event of the year was the 3rd Annual Tournament of Stars. Sixteen teams along with their pro teammates, which included 12 former Toronto Raptors, hit the courts in support of West Park's critical mission. The weekend was a triumph, raising over $530,000 and bringing the three-year total to $1.3 million.
Team DLA Piper won the Tournament with their celebrity teammate Charlie Villanueva!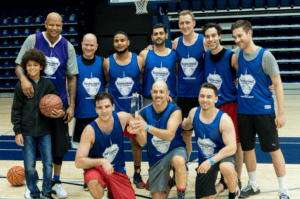 On the second day of Tournament of Stars, the winning ticket for the 5th West Park Lottery was drawn: Philip Palmer was the grand prize winner of a new Dodge Journey.
Early stages of construction of the new West Park continued into 2019. In the spring, workers uncovered a tunnel near the Gage Building while digging up the staff parking lot. Archival records show that the forgotten tunnel once connected the hospital's old Administration Building to the King Edward Sanitorium for Consumptives, which along with the tunnel were all built in 1907.
In April, Dr. Dina Brooks was appointed to National Sanitarium Association (NSA) Chair. The chair was endowed in 2002 through $1 million gifts from both the NSA and West Park Foundation. Brooks plans on expanding West Park's pulmonary rehabilitation program beyond the focus on COPD to include interstitial lung disease and other serious conditions.
The Foundation held its annual Donor Appreciation Event on June 20th. The event recognized and celebrated donors for their generosity in supporting the new West Park and the future healthcare needs of our patients. Every guest received a copy of our 2019 Donor Impact Report, which highlighted the impact of donors' support to date to the Get Your Life Back Campaign.
More discoveries were made during the campus construction in the summer. In August, workers unearthed 12 glass bottles and a mug in the former Recreation Therapy Patio. The hospital's main entrance, driveway and drop-off zone were relocated to this area in preparation for the new hospital build. Meanwhile, the mystery of the bottles' origin has yet to be solved.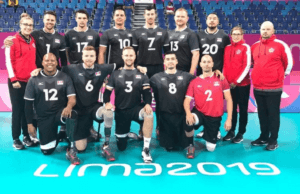 The Parapan Am Games took place during the month of August in Lima, Peru. West Park patients Jamoi Anderson and Jesse Buckingham, along with the Men's Sitting Volleyball Team, won a bronze medal!
On August 26th, more than 100 golfers enjoyed a beautiful day at the legendary St. George's Golf and Country Club. The West Park Foundation Golf Classic raised over $150,000 gross in support of West Park. Golfers were treated to a wonderful dinner and silent auction, and heard from former musculoskeletal rehabilitation patient Tim Casarin about how West Park helped him recover and return to work as a firefighter after surviving an explosion.
We introduced our new West Park Lottery 50/50 draw at the Golf Classic. After five lotteries featuring a car, we changed things up following feedback from our participant survey. Ticket buyers can support a great cause with two chances to win great prizes, including a Jackpot Cash Prize in our 50/50 draw, with a guaranteed minimum of $10,000!
On October 10th, we announced the winner of the West Park Lottery's Early Bird prize. Cindy Ellerton, a physiotherapist at West Park won a one-week stay at Deerhurst Resort in Muskoka, valued at $1,995.
We ended the year on a high note with our popular tasting event, UNCORK UNTAP UNWIND, which returned forfourth unforgettable night on November 7th at the Globe and Mail Centre. The event was a great success and featured 12 beverage vendors, serving local craft beers, wonderful wines and specialty spirits!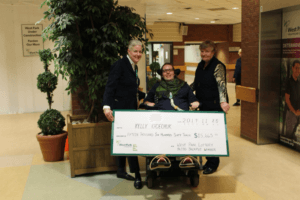 The event raised $190,000 in gross revenue towards West Park's critical mission, bringing our four year total to $835,000.
The winner of the West Park Lottery 50/50 draw was also announced at Uncork: Kelly Kadechuk was the winner of over $15,000.
Congratulations Kelly!