February is Recreation Therapy Awareness Month
February is Recreation Therapy Awareness Month
When people think of recreation therapy at West Park, the first thing that may come to mind is the entertaining programming that is provided at the hospital. Weekly programming includes social events like pub nights, coffee houses, and "Scoops" ice cream sale. But recreation therapy is much more multi-faceted, which is why Recreation Therapy Awareness Month is so important.
This awareness month, which is celebrated each February, is an opportunity to dispel misconceptions and highlight the important work that recreation therapists and recreation therapy assistants do for their patients.
"From the outside, we look like we have a lot of fun and that everything we do with our patients is a fun activity," says Bailey Daniels, a recreation therapy assistant at West Park. "But all of our programming does have therapeutic value for patients."
The recreation therapy team offers a multitude of hospital-wide programs across rehabilitation, complex continuing care (CCC) and chronic assisted ventilatory care (CAVC). Recreation therapists meet with patients to assess their leisure goals, which can include working on fine motor skills, or socializing more.
"Our programs go across all the domains," says Amanda Brown, one of two recreation therapists at West Park. "We work with physical goals, cognitive goals, social, affective and spiritual goals."
"Our goal is to help our patients pursue their own goals," Naomi Max, who is a recreation therapy assistant, adds. "So each goal would look very different for every patient who participates."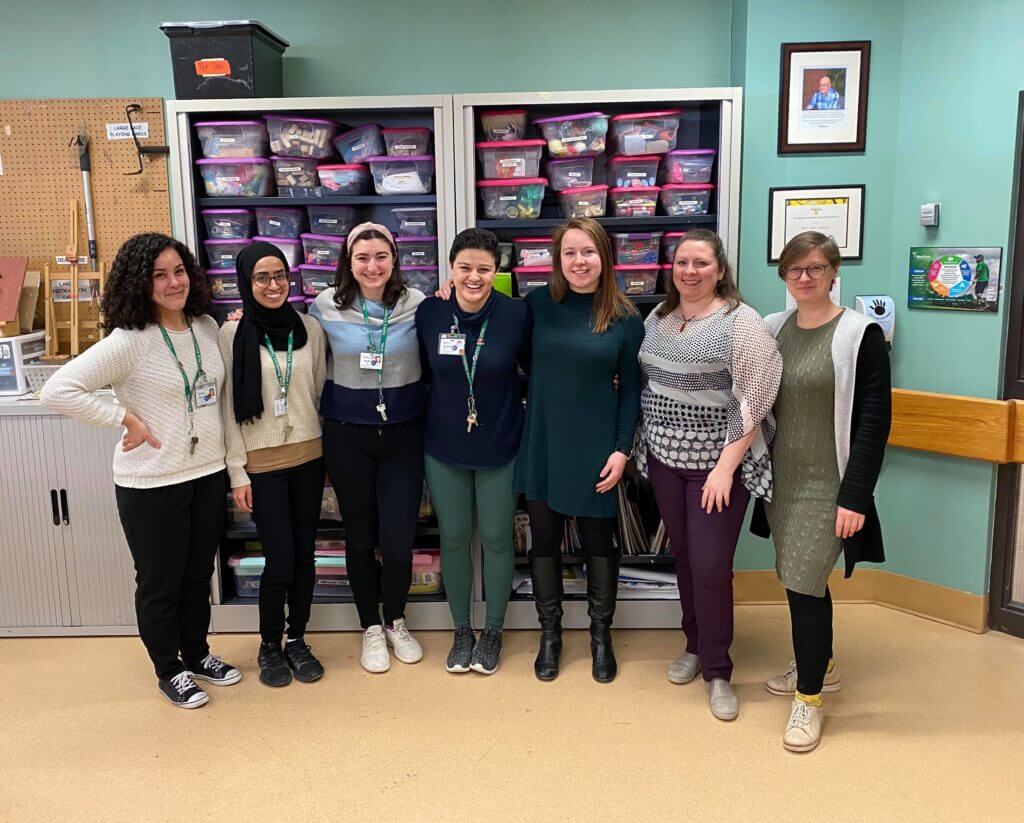 The team also provides one-to-one therapeutic programming for patients. This can include Snoezelen intervention, a multi-sensory stimulation modality that is provided in a controlled environment with the aim of gently invigorating patients, decreasing agitation, increasing comfort and/or providing non-pharmacological pain management interventions.
West Park's new hospital, which is currently being built and expected to be completed in 2023, will have many more spaces devoted to recreation therapy, including more Snoezelen rooms, therapy gardens and a teaching kitchen.
Recreation therapy enriches patients' experience, offering opportunities to build relationships and lasting friendships with other patients; but also helping to alleviate some of the social repercussions of an illness or injury.
"I work on the tuberculosis unit, and there is still a lot of stigma surrounding the illness, so many patients feel socially isolated," says Kandace Assivero, a recreation therapy assistant. "I was working with one patient and helped her learn new skills. She was just so appreciative to be able to express herself creatively through looming and painting. She had such a positive experience."
"I took a few patients fishing at a local fishing ground. And one of the patients invited his son, daughter-in-law, grandson and infant granddaughter," says Naomi. "He was able to spend the day teaching his grandson how to fish. This patient is on a ventilator and would never have got that opportunity to spend time with his grandchildren in nature."
Recreation Therapy Awareness Month is also an opportunity for recreation therapists and assistants to pause and reflect on their work, and assess their own leisure needs. Each day this month, the team has planned an activity that will help them reconnect with their work and each other.
"It is a chance for us to practice what we preach," says Catalina Hayden-Anderson, a recreation therapy assistant. "It's beneficial for us as a department to come together and gather all the exciting things that we know how to do, or are eager to learn, and broaden our own self-awareness of what therapeutic recreation means to us."