RBC Donation
RBC DONATION WILL CREATE NEW DAY HOSPITAL AT WEST PARK
September 28, 2016
Imagine getting the specialized hospital care you need and then going home to eat dinner with your family and sleep in your own bed.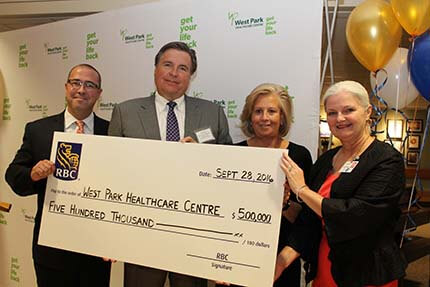 Thanks to a $500,000 gift from the RBC Foundation to create the RBC Day Hospital, more patients will benefit from this kind of care at the new West Park hospital facility.
West Park currently welcomes nearly 5,000 patients a year to its respiratory day hospital. The program's staff work with patients to determine individual treatment goals to improve their independence. Treatment includes supervised exercise, relaxation and breathing techniques, education, and strategies for day-to-day living.
Demand for this service is expected to grow by 50 per cent over the next 20 years.
The facility will also be home to a new geriatric service. Over a six-week period, patients will receive comprehensive functional and medical assessments, physiotherapy and occupational therapy to help with specific issues such as falls prevention, cognitive decline, mood changes and multiple medication use. The inter-professional program will serve seniors with a moderate degree of frailty to manage better at home and provide education regarding coping strategies and the first steps towards advance care planning.
"We know that most people would like to age at home and our goal is to help them achieve this goal while maintaining a good quality of life, and prevent admissions to hospital or long-term care," says Dr. Mihaela Nicula.
"We are in the process of designing a geriatric day program that addresses the multiple aspects of frailty, in which the patients can work on their specific goals and broaden their understanding about their conditions."
West Park's culture of rehabilitation and its highly trained staff make it the ideal place for the program. "It aligns with our values, and our focus on supporting people to live independently," she says.
In announcing the gift to West Park, Richard Pereira, Regional Vice President with RBC, paid tribute to the hospital. "At RBC our mission is to help clients thrive and communities prosper," he said. "One way we do that is investing in outstanding organizations that make valuable contributions to their communities. West Park is one of those organizations."