Spotlight: Jamoi Anderson
BACK TO ACTIVE LIFE
"I was admitted to West Park where things got good for me," Jamoi Anderson says, recalling a bright spot in a very dark year.
In 2009 a severe viral infection had put the athletic 24-year-old in hospital and in a coma. While saving his life, the treatment left him with gangrene in his left foot.
"There's nothing I can't do now that I could do before amputation"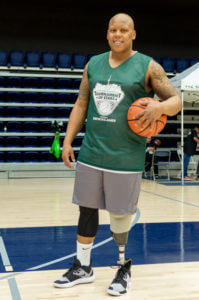 Before he made the difficult decision to have his leg amputated, Jamoi visited the Amputee Rehabilitation Unit at West Park to learn about the therapy he would be offered and the prosthesis they could make for him. He heard a message of optimism. After months of pain and immobility, he could move forward.
After leaving West Park, Jamoi began playing sitting volleyball. In 2015, he represented Canada at the Parapan Am Games in Toronto, winning a bronze medal.
"My goal was to do what I was doing before," says the former varsity basketball player. "There's nothing I can't do now that I could do before amputation. I rock climb, I ski, I play basketball with able-bodied people."