Spotlight: Joycey Romeo
WALKING AND DANCING AGAIN AFTER LOSING A LEG TO CANCER
When Joycey Romeo was diagnosed with synovial sarcoma, a rare cancer that affects soft tissue, her doctors told her she would need to have her entire right leg amputated, right up to her hip because the cancer was climbing up her pelvis.
The mother of six arrived at West Park a week after her January surgery feeling scared and alone. But once she was in her room in the In-Patient Amputee Rehabilitation unit, she was immediately greeted by a nurse who took great care to make her feel safe and welcome.
"Everybody went above and beyond to make sure that I was doing well," Joycey says. "You feel embarrassed because you have no dignity in the beginning, but these nurses were my light, my family. They gave me strength."
Joycey told her occupational therapist her goals – to cook for her family and chase her two-year-old son – and she learned how to get around with one leg. Her nurses, who she calls her "angels," introduced her to other patients at different stages of recovery; they told her inspiring stories that Joycey believes helped build her resilience.
"It is great to have the amputee unit because we are all in the same boat with the same struggles," she says. "It is nice knowing you are not alone."
"I'm back in the kitchen making homemade pizza and lasagna for my kids."
This past June, Joycey got the call that her prosthetic leg was ready. She returned to West Park for another two weeks of rehabilitation and learned how to walk with her new leg.
"I was actually excited because I knew where I was going," she says. "It's going to take time but everyone has been so impressed. I was dancing at a wedding last week: on one leg first, and then I put my prosthetic on after dinner and danced all night long."
Many people have stood out to Joycey during her time at West Park, too many to name.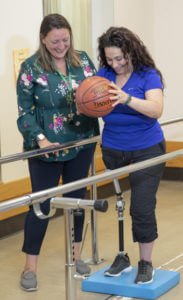 "There are so many people that you don't get a chance to thank," she says. "How do you thank the people who made your leg and made it possible for you to walk? How do you thank the nurses who washed your back when you couldn't reach it?"
Each day, she's getting stronger and more independent, she says, and doing something she didn't think she would be able to do.
"I'm back in the kitchen making homemade pizza and lasagna for my kids," Joycey says."I've been a hair dresser for 25 years, and I am back to working with clients part time.
"I am walking slowly, but I am walking."
Donate today to support our patients as they recover and get back to the lives they love.