Spotlight: Louise Wegg
A BREATH OF HOPE
Louise Wegg believes she was lucky to have come to West Park after years of battling severe chronic obstructive pulmonary disease (COPD). In 2013, the then-Captain of the Canadian Army Reserves was hospitalized. "I just couldn't breathe," she says. Louise left the acute care hospital in a wheelchair with full-time oxygen, but later returned to work after passing a physical.
In 2018, now retired, she kept getting pneumonia and her breathing levels were going down pretty quickly. Her lung specialist in Owen Sound gave her a breathing test, and the results led to a referral to West Park's Respiratory Rehabilitation Service.
"When I got here I was on Level 3 oxygen. I couldn't walk on my own, very fast or very far," Louise says. "West Park provided me with a physiotherapist, occupational therapist, a dietitian, a psychologist, hand therapy, everything."
"I was so shocked because I didn't know what to expect when I came here."
"I wish I knew about West Park earlier, I wouldn't have had to suffer for five years."
She immediately started breathing classes and as time went on she began to see a marked improvement. She got a rollator to help her walk and was taught how to breathe going up little hills, and up and down stairs. She now no longer needs oxygen while sitting and her oxygen is down to Level 1.
Her experience at West Park was made extra special because of the care and attention she received from the staff. Her occupational therapist, Elizabeth Gartner took the time to make a personal connection and get to know her; while her physiotherapist, Harold Moniz motivated her and made sure she was coping well with her therapy.
"He always knew what to say to make me feel better," Louise says. "He always had positive sayings. He was just fantastic with the way he helped me. He'd go out of his way and make sure he'd check on me to see if I was OK. Same with Elizabeth, she started to know me and pick up on my moods."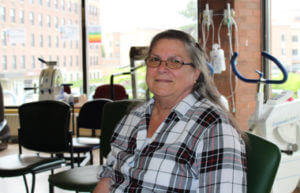 "They're sincere. They don't just do it because it's their job."
When Louise returned to West Park in May 2019, she had the chance to work with Elizabeth and Harold again. "It was as if I never left, you know. They're just so caring and look out for you."
During her time at West Park, Louise has formed friendships with other patients that she believes will endure outside of the hospital. "West Park does give you your life back and it gives you hope," she says. "Being here, we meet people, we become a family and we are here to support each other."
"I wish I knew about West Park earlier, I wouldn't have had to suffer for five years."