Spotlight: Rashmi Sanjay
BACK TO ACTIVE LIFE
Rashmi Sanjay admits that it took her a while to "wrap her head around" what was happening to her. Early in 2017, the 40-year-old mother of two was diagnosed with a rare tumour on her spinal cord that threatened to paralyze her from the neck down.
As the reality began to sink in, Rashmi depended on yoga breathing and mindfulness meditation to keep her positive. She underwent a six-hour surgery, with no guarantee that she would ever walk again. Seven days later, she arrived at West Park.
"I came in on a stretcher – I couldn't walk, I had pain in my neck, and I needed help using the washroom and getting dressed," she recalls. To add to the challenge, her pain medication was causing terrifying hallucinations, and intense pain interfered with her rehabilitation.
But Rashmi had a goal – to get back to her children, Rhea, 9, and Eshan, 7.
"Walking into my own house and seeing the children and their 'welcome home' cards was very emotional. I couldn't have been happier."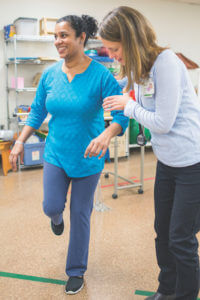 She started getting up early in the morning, taking her pain meds, and then going for a walk with her walker. When the meds kicked in, she found her therapists and told them she was ready to work. "The therapists were phenomenal," she says. "They didn't tell me what to do – they listened to how I was feeling and worked around that."
She was buoyed up by the support she received from the entire West Park community. Even the cleaning staff got used to seeing her each morning, and urged her to keep going. "Everyone was so positive and encouraging," she says. "It really gives you a boost to know that everyone is standing with you."
Less than four weeks into her stay, Rashmi returned home. "Walking into my own house and seeing the children and their 'welcome home' cards was very emotional. I couldn't have been happier."