Spotlight: Vince Della Pia
BACK TO LIFE AND WORK AFTER LOSING A LEG
For Vince Della Pia, West Park is truly a special place because it turned what could have been a life-altering experience into a positive one.
In the summer of 2018, Vince developed an infection on his toe that wasn't responding to antibiotics. By the end of September, he had to have his left leg amputated below the knee to prevent the infection from invading his bones and becoming critical.
When Vince came to West Park that October, he was immediately impressed. He was met by a nurse who told him about the doctors, physiotherapists, occupational therapists and prosthetists who would be working alongside him in his recovery. He was also encouraged to start working towards his independence right away.
"Three months after my surgery, I was back to full function."
"From day one, the tone was set about what the expectations were," he says. "I wasn't the only patient my therapists were working with, but when they were working with me, I was their number one priority."
After two in-patient stays, first to recover from his amputation surgery, and then to learn how to walk in his new prosthetic limb, Vince was ready to return home.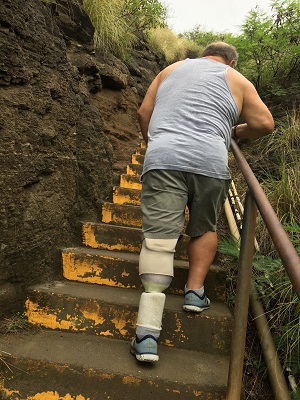 "Three months after my surgery, I was back to full function. I was discharged from West Park in mid-December and back to work after the holidays in January," he says. "I am a financial planner, and I was driving myself to the office and working full days. Most people aren't even aware that I have a prosthetic leg unless I tell them."
Vince believes West Park really prepared him for the physical and mental challenges of being an amputee. One year after his amputation, he even travelled to Hawaii with his wife and accomplished a physical feat that he continues to be proud of.
"We hiked up the rim of Diamond Head on the island of O'ahu, which involved going straight up with a lot of switchbacks," he says. "And I did that on my prosthetic. It took me a little longer than everybody else, but I did it. I felt pretty good after that day."
Over two years has passed since Vince left West Park, but the facility has left a lasting impression, which inspired him to give back and support the Get Your Life Back Campaign to build its new hospital.
"This place really lives up to its tagline," he says. "It gave me my life back and put me in a position to succeed even more."
Stay up to date on what's happening at West Park by visiting our Latest News page.
Watch: Fly-through the New West Park Healthcare Centre