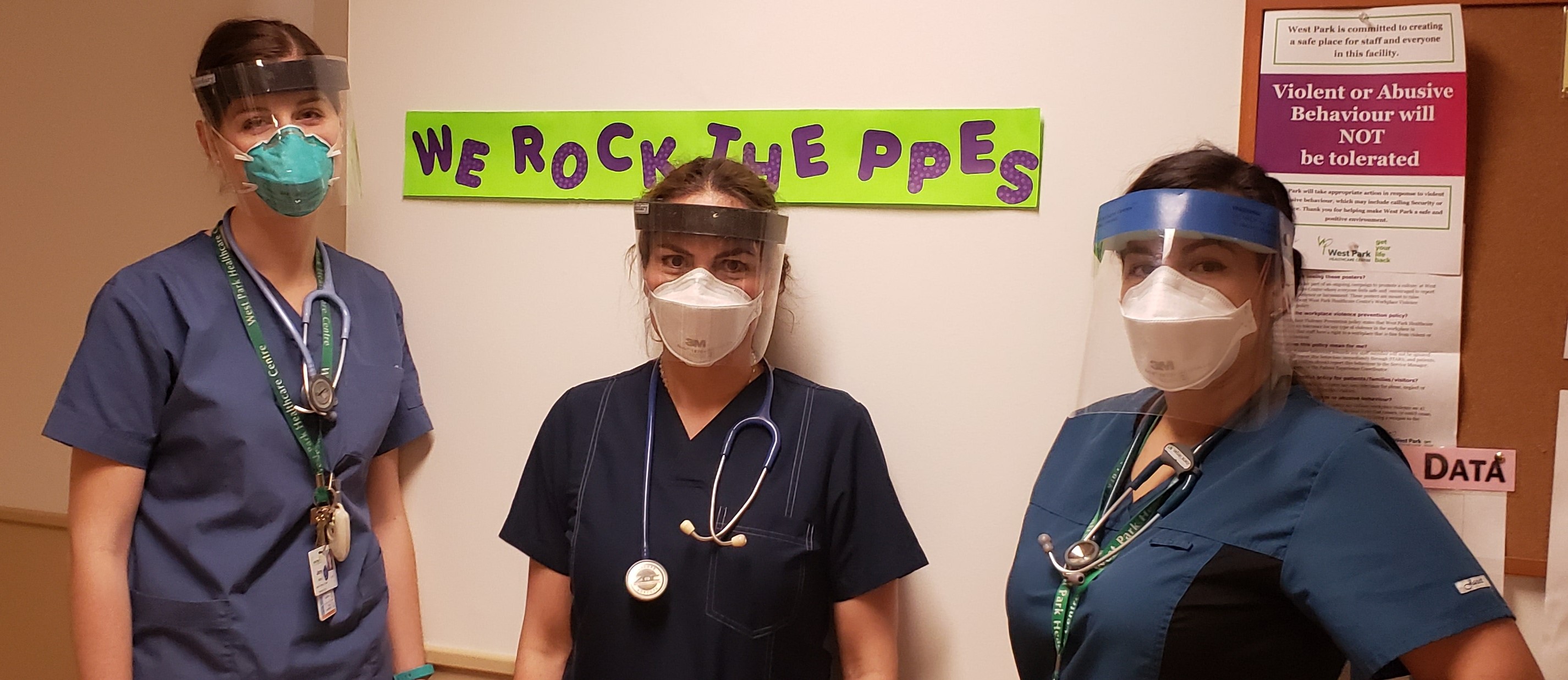 Pandemic Shines Light on Vital Role of Respiratory Therapists
Respiratory Therapists Care for West Park's Most Vulnerable Patients
If there is one thing that respiratory therapists agree on, it's the fact that many people don't know they exist. While the current COVID-19 pandemic has shone a light on the very important work they do in intensive care units, at West Park, respiratory therapists have a vital role, providing care for all patients with health conditions that affect lung function.
They work with patients who are ventilator dependent and respiratory rehabilitation patients with chronic breathing disorders. They provide education and support for people who are transitioning from in-patient care to living at home. And on evenings and weekends, respiratory therapists, who are also trained in advanced cardiac life support, lead all rapid responses and code blues, in coordination with the doctor on call.
The Long-Term Ventilation (LTV) Service is where West Park's respiratory therapists spend most of their time, working with patients who are invasively ventilated, requiring mechanical assistance to breathe. These patients call West Park home, and are some of the hospital's most vulnerable, especially during the pandemic.
"We did have some suspected COVID-19 patients here in March that interacted with a patient who had tested positive for the virus," says Jenny Marcos, a respiratory therapist, who splits her time between West Park and an acute care hospital. "So the respiratory therapy team, along with the doctors and other care staff had to decide 'how are we going to protect these patients and how are we going to protect the staff?'"
LTV patients, who in normal circumstances have had the freedom to move around the hospital in their wheelchairs, must now stay in their rooms and can't receive visitors beyond their care providers. There have also been changes to their ventilator care management, since ventilators are an aerosol producing device and the risk is highest with COVID-19 patients when performing aerosol generating procedures.
"At the first sign of any change in a patient's status, such as a low fever or a dry cough, they are put into isolation and tested for the virus right away," says Joana Vargas, a respiratory therapist, who has worked at West Park for five years. "We have to be very careful."
Every healthcare worker on the unit has to wear their N95 mask and a face shield at all times, while hand hygiene continues to be a priority.
Early on in the pandemic, a number of respiratory therapists at West Park had to enter self-isolation for 14 days and be tested for the virus, after being potentially exposed while outside of the LTV unit.
"The part time staff stepped up and came in when they could," says Marcos. "And a lot of us worked back-to-back shifts and worked overtime hours during the week."
Vargas, who was one the respiratory therapists who continued to work, had to make the difficult decision to distance herself from her parents, which also meant losing her childcare support for her one-year-old and a three-year-old.
"My husband and I had to take turns working," says Vargas. "All of us who were not exposed to the virus were picking up all of the shifts because we needed to help our co-workers. It was very exhausting and stressful to come home to take care of my kids and then go back to work."
During this time, the respiratory therapists who were away from the hospital started a group chat with those who were still working, says Maria Duarte, a respiratory therapist who had been exposed to the virus.
"We wanted to be there to help. I felt useless, like I should have been there," she says. "But we were supporting the people who were working. We may have not been present, but we were helping by sharing ideas and answering questions in the group chat. We were providing support to each other as a group, lifting morale, while maintaining patient confidentiality at all times."
It was a very scary time for Duarte, who was self-isolating at home and trying to keep her distance from her family, including her two adult children.
"That was a hard time, I was stressed about possibly being positive and spreading it to my family," Duarte says. "But the whole respiratory therapy team was OK. We all shared our negative results in the group chat."
The department is now fully staffed and has even hired new therapists to meet the staffing demands of expanding the LTV unit with 23 new beds to help move medically stable ventilated patients out of ICUs and ensure that people who have become critically ill with the COVID-19 virus can receive the necessary critical care.
"We are helping these patients get their life back: they do live here, but they're gaining tons of functional independence," says Marcos. "The work doesn't stop in ICU, we continue it here."
"I love working with people and providing breathing support. It's a really good feeling," adds Duarte. "We take breathing for granted. We don't think that there will be a point where we can't breathe. We try our best to optimize a patient's ventilation so that they don't feel that breathing is a challenge."
To learn more about how you can support West Park during this challenging time, visit our Ways to Give page and PPE Donation Drive page.