TD Donation
LEADERSHIP GIFT FROM TD TO CREATE NEW RESOURCE CENTRE
February 7, 2017
A leadership gift of $800,000 from TD to the Get Your Life Back Campaign will create a new resource centre at West Park.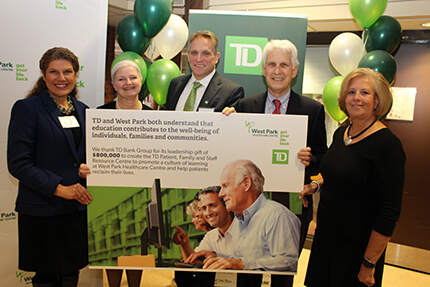 The TD Patient, Family and Staff Resource Centre will provide access to a vast body of up-to-date and relevant healthcare knowledge and information that will enhance patient care and outcomes. The gift will also support education through the Registered Nursing Association of Ontario to provide advanced specialty training in skin and wound treatment to nursing staff.
"TD believes that education is critical to the health of individuals, families and communities. We know that by working together to further the education of staff, patients and their families at West Park, we will be making a difference in the future of our community," said Mike French, Senior Vice President and Chief Financial Officer of Canadian Retail at TD Bank Group.
The donation was celebrated at an event at West Park attended by patients, staff, physicians and volunteers. John Freeman, Chair of West Park Foundation's Board of Directors, thanked TD for their support.
"TD's generous gift will enhance patient care and improve the patient experience while promoting a culture of learning among all members of the West Park community," said Freeman.
The resource centre will be located in the new, six-storey, approximately 730,000 square foot hospital facility planned for the West Park campus.
"Education and learning are essential components of our new integrated campus of care," said Anne-Marie Malek, CEO of West Park Healthcare Centre. "The bold transformation of our campus will set a new standard for patient care and enable us to meet the healthcare challenges of the future."