Campus Development
A bold new future for West Park
The sound of shovels breaking ground on October 11, 2018, ushered in a bold new future for West Park. These symbolic steps were the first in a journey that will culminate in a new $1.2-billion, six-storey hospital overlooking the beautiful Humber Valley, scheduled to open in late 2023.
This remarkable building will be at the centre of our new integrated campus of care, a stunning transformation that will allow us to better support people when they are most vulnerable and meet the rising demand for rehabilitation and complex continuing care.
Read about the features of the new hospital

Construction Update – Fall 2022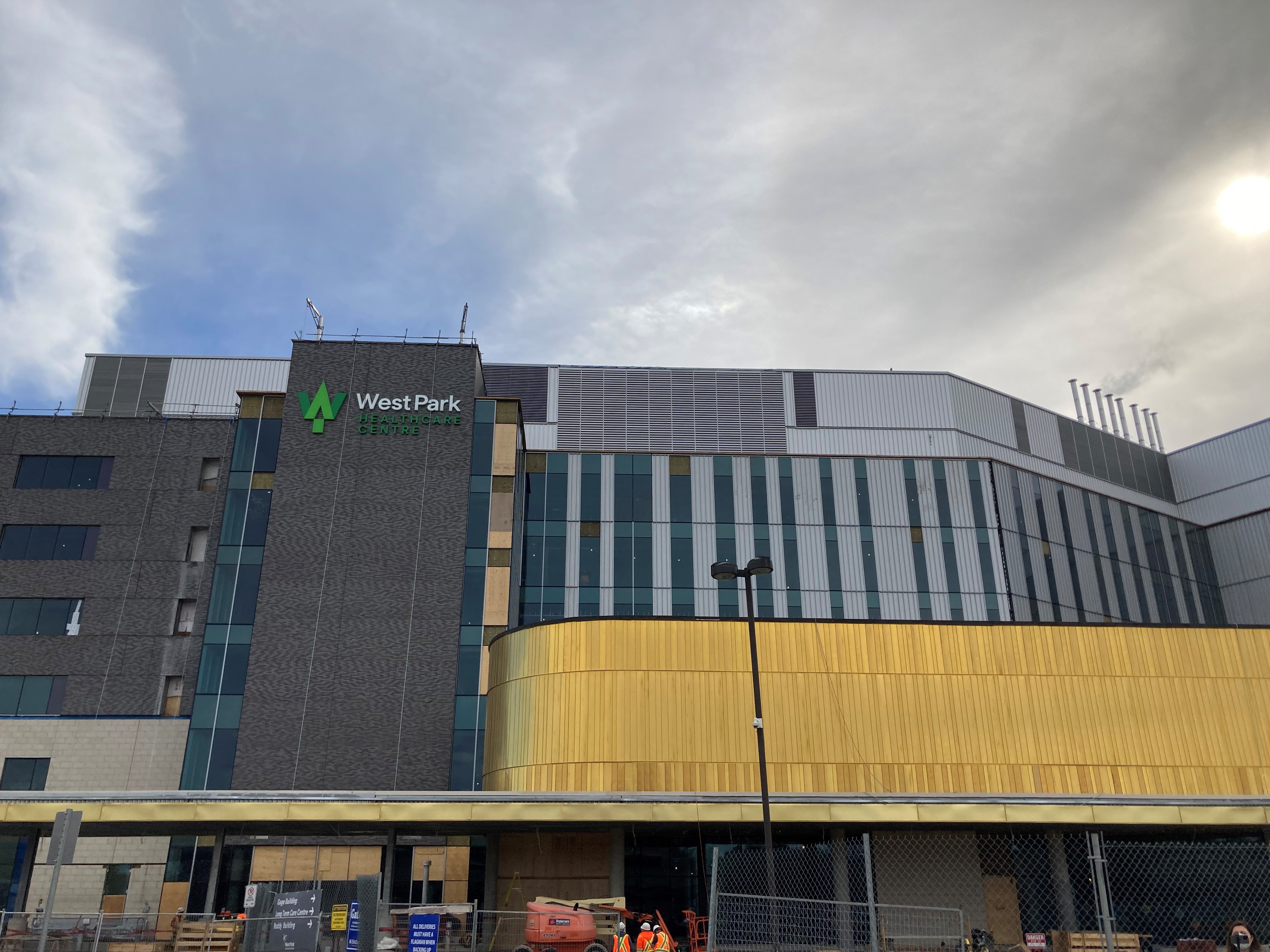 In October, the stunning panel over the front entrance of the new hospital was installed. This distinctive, curved copper-coloured exterior wall – made of Muntz metal, a metallic alloy consisting of a 60 and 40 per cent ratio of copper and zinc respectively with a trace of iron – is golden now but will gradually turn dark bronze when fully weathered.
The panel is just part of the exterior work that construction crews worked hard to complete over the summer and early fall.  Among these tasks was the preparation of the extensive pick-up and drop-off area in front of the main entrance, including a long canopy to shelter patients and visitors from the weather, and the installation of the large glass windows at the main entrance and throughout the building.
Bringing the outside in, the building has been designed to maximize the amount of natural light into the facility. Patient rooms, for example, will have larger, lower windows providing both daylight and bedside views, while in the Outpatient Rehabilitation Gym, large one-way tinted windows will provide privacy while allowing patients and staff to look out unhindered.
The new gym is located in the Outpatient Block, the largest of three blocks – or wings – in the new hospital.  The new West Park will include significantly expanded outpatient facilities, enabling more people to remain at home while accessing the care they need to recover and maintain their health.
Learn more about what's included in the Outpatient Block here.
Watch: Mock-up of patient rooms in the new West Park
To view more spaces in the hospital, including an In-patient Airborne Isolation Room,
click here
.
Features of the New Hospital
Our patients face some of life's most difficult health challenges, including severe trauma, amputation, chronic lung disease, and spasticity, which is a debilitating symptom of stroke, cerebral palsy and multiple sclerosis. They work hard to get back to their lives, supported by our skilled, caring team, and they deserve the very best care on their difficult journey.
Our new hospital will:
recognize that a stay in rehab is measured in weeks and months, by providing greater comfort and privacy for patients and their families;
maximize the rehabilitation time available to patients by clustering related services together and locating specialized therapy gyms on each unit floor;
include 20 per cent more beds, a necessary expansion as the population ages and more people are living with chronic disease and disability;
double the space for outpatient clinics so more patients can benefit from our excellent care and sleep in their own beds at night; and,
bring clinicians and researchers together in a collaborative working space, allowing our patients to benefit from the most up-to-date knowledge and techniques.
The new West Park will make great use of our beautiful, expansive grounds, visually integrating the indoor rehabilitative space with the invigorating outdoor environments. Each patient floor will have an outdoor terrace; the campus will have gardens, trails and outdoor, multi-use rehabilitation spaces, to help patients learn to navigate all types of terrain. This design celebrates West Park's extraordinary setting, allowing patients to benefit from the healing power of nature.
How You Can Help
West Park Foundation's $80 million Get Your Life Back Campaign is supporting the capital costs of the new hospital, helping to bring the very best in rehabilitative care to Ontario. You can be part of this inspiring project by making a donation today.
Learn more about the campus development here, watch the building take shape on our construction cam or see renderings of the finished product below.
Stay up to date on what's happening at West Park by visiting our Latest News page.