Campus Development
A bold new future for West Park
The sound of shovels breaking ground on October 11, 2018, ushered in a bold new future for West Park. These symbolic steps were the first in a journey that will culminate in a new $1.2-billion, six-storey hospital overlooking the beautiful Humber Valley, scheduled to open in late 2023.
This remarkable building will be at the centre of our new integrated campus of care, a stunning transformation that will allow us to better support people when they are most vulnerable and meet the rising demand for rehabilitation and complex continuing care.
Construction Update – Spring 2021
Construction has continued in earnest over the past year, and the new hospital has clearly taken shape.  Construction crews are currently forming the sixth (top) floors of both the North and South Inpatient Blocks, while interior work is ongoing on the lower floors.
The Outpatient Block is also well underway, with the underground parking and first floor complete in one area, and the third floor under construction in another.  Also in this block, the new therapeutic pool has been formed.  Six times larger than the current size, the new pool will have different depths to support a wide range of activities, as well as an underwater treadmill that can be used by patients experiencing joint pain.  The pool will also feature special lighting and other sensory stimulation equipment to create a controlled multisensory environment for patients with acquired brain injuries, autism, dementia, and other conditions.
The therapeutic pool, which will have a beautiful view to the outdoors, will be available to both inpatients and outpatients but will also be made available for community programs.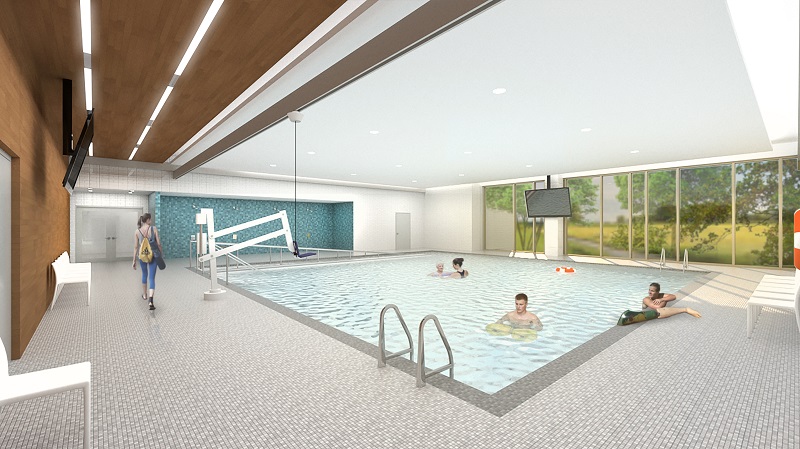 Click image to view more photos of the therapeutic pool, including the construction.
Features of the New Hospital
Our patients face some of life's most difficult health challenges, including severe trauma, amputation, chronic lung disease, and spasticity, which is a debilitating symptom of stroke, cerebral palsy and multiple sclerosis. They work hard to get back to their lives, supported by our skilled, caring team, and they deserve the very best care on their difficult journey.
Our new hospital will:
recognize that a stay in rehab is measured in weeks and months, by providing greater comfort and privacy for patients and their families;
maximize the rehabilitation time available to patients by clustering related services together and locating specialized therapy gyms on each unit floor;
include 20 per cent more beds, a necessary expansion as the population ages and more people are living with chronic disease and disability;
double the space for outpatient clinics so more patients can benefit from our excellent care and sleep in their own beds at night; and,
bring clinicians and researchers together in a collaborative working space, allowing our patients to benefit from the most up-to-date knowledge and techniques.
The new West Park will make great use of our beautiful, expansive grounds, visually integrating the indoor rehabilitative space with the invigorating outdoor environments. Each patient floor will have an outdoor terrace; the campus will have gardens, trails and outdoor, multi-use rehabilitation spaces, to help patients learn to navigate all types of terrain. This design celebrates West Park's extraordinary setting, allowing patients to benefit from the healing power of nature.
How You Can Help
West Park Foundation's $80 million Get Your Life Back Campaign is supporting the capital costs of the new hospital, helping to bring the very best in rehabilitative care to Ontario. You can be part of this inspiring project by making a donation today.
Learn more about the campus development here, watch the building take shape on our construction cam or see renderings of the finished product below.
Stay up to date on what's happening at West Park by visiting our Latest News page.