Celebrating the Generous Support of Three Families
Three Leadership Gifts to the Get Your Life Back Campaign
On Thursday, March 5th, West Park celebrated the support of three families that have made significant contributions to the Foundation's Get Your Life Back Campaign.
Patients, staff and other members of the West Park community gathered in the hospital's Enbridge Auditorium to thank the Wilson, Weishuhn, and Troop families for their generous gifts, which will have a big impact on our new hospital.
"These generous gifts will make our new hospital a better place by enhancing the care experience for patients and their families," says Joanne Cole, West Park Foundation CEO. "We are grateful for their support, which will make a difference in the lives of our patients for decades to come."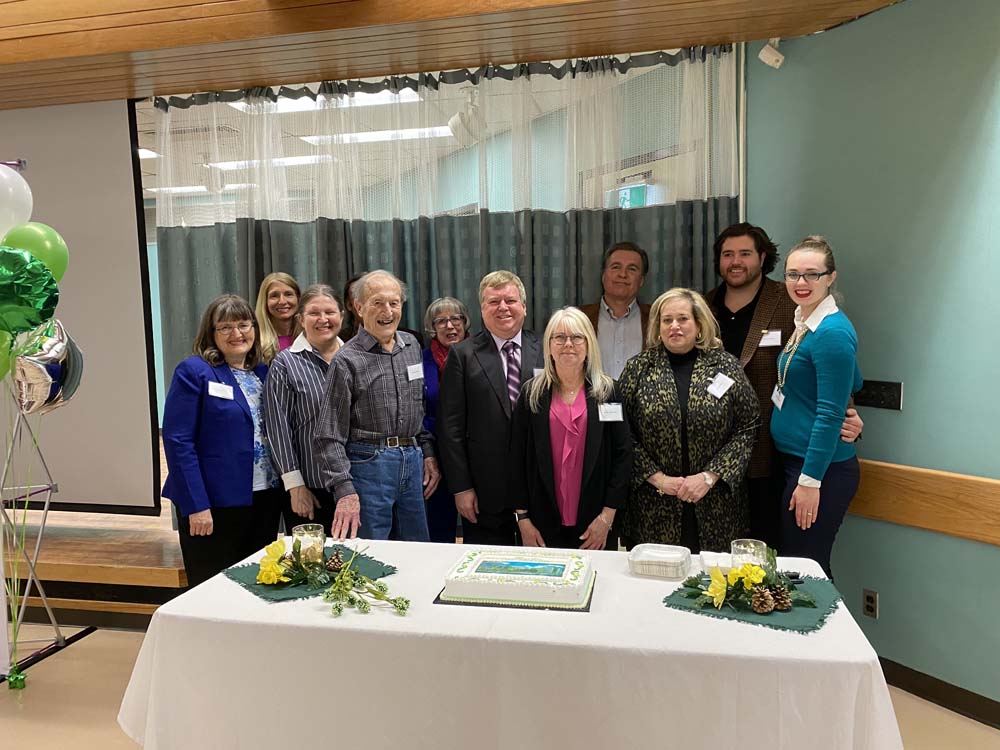 Gordon Wilson, a member of West Park's Board of Directors from 1989 to 1994, and a long-time patient of the Day Hospital, donated $250,000 to create the Audrey Wilson Therapy Trail, in memory of his wife of more than 60 years.  The trail will benefit future patients and their families by connecting them with the healing benefits of nature. Gordon and Audrey shared a love of hiking in the great outdoors, and in a few short years, this trail will help West Park integrate nature into rehabilitative care.
The hospital's auditorium is often described as its family room. It hosts special events, like patient Pub Nights and Coffee Houses, as well as presentations and gatherings for staff. David Weishuhn, a former West Park patient and Foundation Board member, and his family have made a generous gift of $250,000 to fund the Weishuhn Auditorium. The Auditorium will be a feature element in the new hospital, giving our community a central meeting place.
Ian Troop, Chair of the Get Your Life Back Campaign, and his father Fred have made a $100,000 family gift to fund the Frederick and Isabella Troop Family Dining Room and the Frederick and Isabella Troop Family Activity Room in the MSK Rehabilitation Service.  Witnessing the exceptional care that Ian's brother Alex received at West Park after becoming seriously injured in a snowmobile accident three years ago, the Troops were inspired to help future MSK patients.
The activity room will allow for customized recreation therapy to help patients regain fine motor skills, while the dining room will help patients connect with each other, and with family and friends, during a long hospital stay.